Welcome to College of Physiotherapy
Physiotherapy training was introduced in India in the year of 1950s. This health service is one of the most popular and sought-after treatment in western countries. Although it has been more than five decades since its inception in our country the awareness is only gradual but surely growing at fast pace. College of Physiotherapy was started under the aegis of K.M. Shah Charitable Trust in the year 2001. The College became one of the Constituent Institutes of Sumandeep Vidyapeeth Deemed to be University in the year 2007. College of Physiotherapy is attached to Dhiraj Hospital (DH) which is a 1065 bedded, Super specialty Tertiary care teaching hospital. It is quite certain that considering the population of the country and the number of therapists produced every year, the profession has a tremendous potential for development in coming years.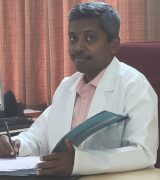 We welcome all the students desirous of becoming Physiotherapists with specialized skills in various specialties viz. Neurology (Adult & Pediatric), Orthopedics & Sports, Cardio Vascular & Respiratory Sciences, Community Physiotherapy (Geriatrics, Women's Health), and other upcoming fields to not only restrict to rehabilitation but also take charge of fitness / wellness of all.