DEPARTMENT OF CLINICAL NUTRITION AND DIETETICS
Preamble
Nutrition is the science and art of applying the principles of food science and human nutrition to attain and maintain human health. Dietetics & food service management is a versatile profession which requires professionals to use their knowledge, creative skills and communication in attaining and maintaining patient's health.
Dept of Clinical Nutrition / Dietary Services
MISSION: To impart knowledge and educate patients about therapeutic diets and to improve the quality of hospital food service through continuous research, education and training and information dissemination.
VISION: The vision of the department is to excel in field of clinical dietetics and to be the frontrunner in imparting practical education and training.
The dietetics and food service department is an integral part of Dhiraj hospital's healthcare system. Dieticians and Nutritionists are paramedical healthcare professionals, who with their nutritional, food science and human nutrition knowledge help in achieving and maintaining good health.
Dhiraj Hospital is the 1st IDA (Indian Dietetic Association) approved hospital in Gujarat for Registered Dietician's [RD] training.
Dietetics department is run by qualified nutritionist Dr Sheetal Chhaya, PhD, RD
(Assistant Professor & Chief Dietician) and her team.
Highlights:
Personalized diet plan is made for the OPD patients.
Calorie counting is done and accordingly nutritional advice is given.
Along with macro nutrients, micro nutrients are also taken care of.
Nutritional recipes are developed according to the feasibility of the patients.
Dieticians at Dhiraj Hospital
ROLE & RESPONSIBILITIES OF CHIEF DIETICIAN
To direct comprehensive nutrition programme for the care and treatment of patients in the hospital and impart teaching of nutrition care to Dietetic interns.
To supervise the functioning of the Clinical Nutrition & Dietetics Department in the hospital. Assign responsibilities to the Department staff to ensure smooth functioning of the department.
To take clinical rounds and carry out the Nutritional Assessment of patients and personal discussion with the patients regarding food tolerance and allergies etc.
To educate and assist patients and families in how to choose meals from a modified therapeutic selective menu in Diet Clinic.
To provide and explain materials and publications to patient in support of the nutrition care plan
To participate in in-service training program and demonstration of nutrition assessment methods to Medical students, Dietetic interns and Nursing students.
ROLE & RESPONSIBILITIES OF FOOD SERVICE DIETICIAN
To supervise thefood purchases with regards to quality, quantity, inventories etc.
To instruct on food preparation and to wastage.
To design and modify the therapeutic diets as per the need of the patients.
To instruct the staff employs about food handling, cooking, distribution and sanitation and also to supervise regular cleaning of the diet department.
To attend to diet clinics and OPD patients.
To do ward rounds as per time table.
To look after the bills, stock, books, chalan and forwarding them to the Accounts section for payments
HOSPITAL DIETARY SERVICES
The department provides nutritional requirements to about 800 patients per day on an average.
The Hospital kitchen houses is the most sophisticated "State of Art "equipments with an efficient exhaust and fresh air system. It has a separate storage area for dry ration and deep freezer/cold storage facility for perishables. The 3 sink washing system ensures hygiene and the most efficient cleaning technique of utensils. The garbage clearance is promptly done at frequent intervals. The central RO system ensures clean and potable drinking water.
NUTRITIONAL CARE OF PATIENTS:
In-Patients: The department provides normal, modified and therapeutic diets to all the in-patients depending on their respective disease conditions in consultation with treating physician of the individual patient. Dieticians take extensive ward rounds and assess the patient's requirements. Detailed diet history of the patients is taken, bio chemical parameters is evaluated and nutritional assessment done. Proper initiation of enteral feeding is taken care of critical patients to avert refeeding syndrome. Diet modification is done for the patients in case of some food allergies or to prevent food drug interaction. Every patient on special diets is given individual diet counseling. The patients' compliance with the diet is evaluated and changes are made if necessary. All the patients on special diet are also provided a detailed diet chart at the time of discharge. The patients then visit the OPD for their follow up.
OPD Clinic:Out-patients, referred from various departments are given diet counseling at the DIET CLINIC, OPD #1, on the ground floor of the main building. The OPD timings are from 9 AM to 5 PM. Personalized diet plan is made for the OPD patients. Calorie counting is done of patients and accordingly nutritional advice is given.Along with macro nutrients, micro nutrients are also taken care of.
Besides this, the department also works in close association with:
Diabetic Clinic (free FBS and PP2BS checkup, held on every Friday)
Dept of OBG for counseling pregnant and lactating mothers
Conducts food exhibitions
Active participation in Diabetic, cardiac and other camps conducted.
Celebrates special days like Diabetes day, Nutrition week, breast feeding week   etc.
DIETETICS INTERNSHIP PROGRAM
The mission of the Dietetic Internship Program is to provide students a high quality education and a supervised practical exposure that will prepare them as competent and effective dietetic practitioners for entry-level positions in general dietetics. The philosophy of the Program is to integrate knowledge and critical thinking skills with service. The focus on service affords the Program an opportunity to emphasize professional practice that facilitates modification of personal food choices, food access and food systems.
INTERNSHIP TRAINING
I. RD (Registered Dietician) Internship Training:
Extensive practical training for a period of six months is offered for postgraduate candidates in two batches of four per year from anywhere in India.  The selection of candidates is strictly on the basis of merit.
II.Internship Training as a Part of Post Graduation: 
The department provides six to twelve weeks of internship training to students of PG Diploma in Dietetics and students of M.Sc Foods & Nutrition from M.S. University as well as to students from SNDT University and Anand Agricultural University. The selection of candidates is strictly on the basis of merit.
III.Fee Structure
A sum of Rs.Two Thousand Five hundred (Rs. 2500/-) per month is charged for providing internship training as per the instructions of the Registrar Sumandeep Vidyapeeth.
Accommodation -limited seats on sharing basis may be provided in hostels depending upon availability on regular charges.
 PHOTO GALLERY
DIETETICS DAY CELEBRATION AT DHIRAJ HOSPITAL
| | | |
| --- | --- | --- |
| | | |
| DIET COUNSELING OF PREGNANT AND LACTATING MOTHERS IN OBSTETRICS WARD | NUTRITION WEEK CELEBRATION IN SUMANDEEP NURSING COLLEGE | BREAST FEEDING WEEK CELEBRATION |
WORLD BREASTFEEDING WEEK 2021 CELEBRATION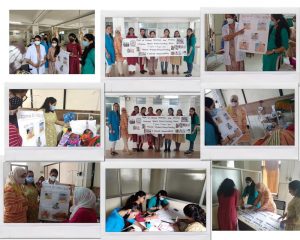 Day: 1  Awareness session was conducted for the expectant mothers regarding the Importance of Breastfeeding, duration and correct positioning
Day: 4 A skit was performed at Obstetrics ward by interns wherein mothers and caregivers were sensitized regarding importance of Exclusive Breastfeeding and appropriate complementary feeding and lactogogues .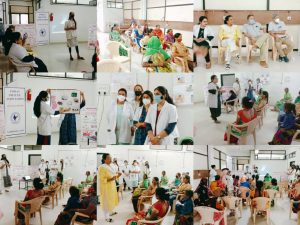 Day: 5 A session was conducted with lactating mothers at NRC throwing light on the significance of Colostrum, importance of exclusive breastfeeding and the initiation of complementary feeding after six months with pediatric department.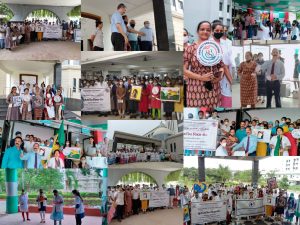 Day: 6 Breastfeeding awareness rally was carried out by Doctors, Nurses, Nutritionists, Dietetic Interns and students from constituent colleges spreading the WBW 2021 theme and key messages about importance of protecting breastfeeding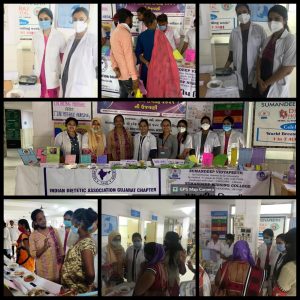 Day: 7 Food Exhibition was organized for pregnant and lactating mothers displaying high calorie and protein dense food items prepared from locally available, affordable as well as feasible food items.